linhaus launches with a haunted "haus" party in elizabeth taylor's former manhattan mansion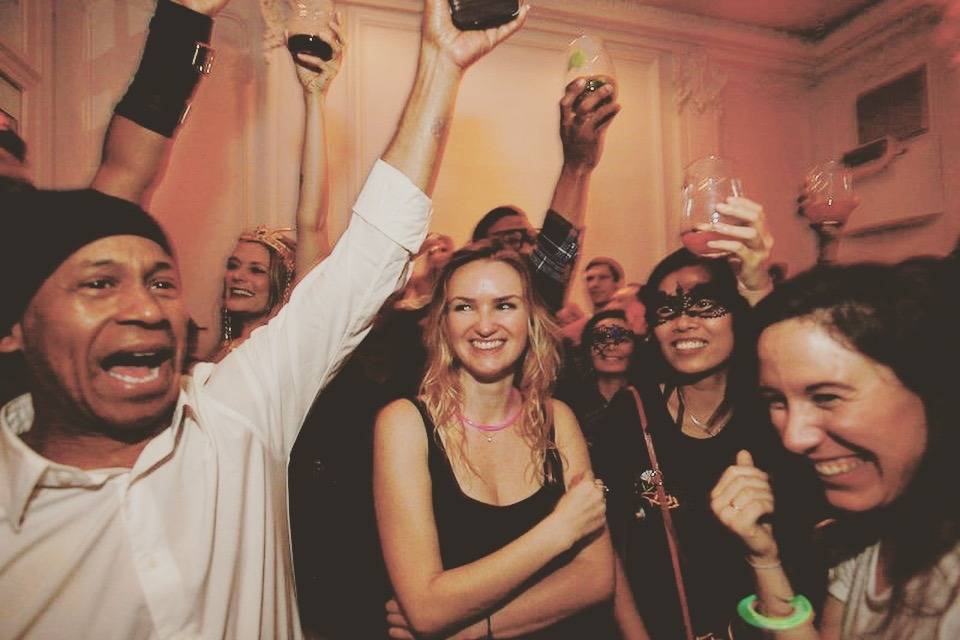 DURING A PRIVATE EVENT ON HALLOWEEN WEEKEND, THE LINHAUS COMMUNITY POPPED BOTTLES and RAISED GLASSES TO CELEBRATE A NEW WAY FOR COUPLES TO GET ENGAGED.
They say changing consumer behavior is the most difficult thing to do in a startup - but our designer Lisa Linhardt argues that the consumer behavior has ALREADY changed when it comes to the proposal process. She argues: "Linhaus is simply responding to key problems expressed from prospective and existing clients that I learned about while growing my first jewelry business from the ground up."
For the past decade, Linhardt has been making custom jewelry for thousands of individuals and celebrities through her two retail storefronts in lower Manhattan (Linhardt Design) - that thrived after launching in 2008, during one of the worst economic crises this generation has seen. Linhardt has listened to thousands of stories regarding how the engagement experience is broken - directly from those who were in the midst of planning their engagements and participated in the process of making custom pieces of jewelry with her. Linhardt is a sculptor-turned-jeweler who sees fine jewelry as "collaboritve little sculptures that celebrate memorable milestones - and ultimately - tell the story of your life."
Linhardt has a history of cultivating a robust community through her events, and the launch of Linhaus was no different. We gained access to the former townhouse of Elizabeth Taylor to create and curate a private celebration for the launch of Linhaus, that doubled as a fundraiser to remove mercury waste at the Gualconda Gold Mine in Colombia - which Linhardt has visted twice this year. In addition to creating solutions for the engagement community, Linhaus is on a constant journey to solve problems for the global community as it relates to the jewelry supply chain. Linhaus seeks to create fine jewelry that is personal, collaborative, and transparent.
Check out some highlights of our Haunted linHAUS Party:
---
We challenged our community to get creative on Halloween weekend and come as they are - or as they want to be... and they surely didn't didn't disappoint! We were incredibly impressed with all the thoughfullness and effort put into the looks!
---
Despite collaborating with celebs, we consider our dedicated customers the ultimate A-Listers we have worked with - as without their support, we would not exist. Linhaus welcomed every atendee with a red carpet walk that they posed for during a traditional "step and repeat".
---
It was incredible to see clients the community our designer has made jewelry over the past decade, who still are intrinsically connected with us. We love seeing your exceptionally crafted jewelry stand the test of time, how your families have grown, and how your style has evolved togther with ours throughout the years.
Diamonds Made
from Flowers
---
Linhaus takes personalization to the next level by offering Anniversary diamonds made from your actual wedding bouquet. We also partnered with John Hatleberg to offer exclusive diamonds made from natural rose petals - the ultimate wearable technology with full transparency in origin and labor.
Virtual Reality Jewelry Collections
---
Linhaus was thrilled to collaborate with a fellow enrepreneur who is changing the game when it comes to viewing fine jewelry collections, so that our clients could experience our new line though a fun interactive interface. Thank you, Poornima, for recreating our former retail space in VR so clients could relive the past in the eyes of the future.
---
Linhaus was proud to unveil its proprietary engagement ring concept made for same-sex couples. Our favorite drag queen, VickyDeVille, brought it home with a fabulous show centered around diamonds. At Linhaus, we welcome all to join our community!
A Taste of our
(Dance) Roots
---
...Because life is so much more fun when we dance throught it! We were so happy to bring back the Cuban quartet of Grupo Irek who kicked off many evenings for us while building the first business. We ended the evening with Def Jam's own DJ DPrizzy who (inside joke) brought the haus down!
Supply Chain Transparency
---
Linhardt has built solid relationships throughout the entire supply chain, and has traveled both domestically internationally to bring personal stories of transparent sourcing directly to her audience. Linhaus is committing to continuing that journey for our customers.
WINE + BUBBLY provided by Chandon BRUT, and Maiden + Liberty
MIXOLOGY provided by Reyka Vodka, Montelobos Mezcal, Ancho Reyes, and Flor de Cana Rum.
LIVE MUSIC by Chino Pons and Grupo Irek.
ENTERTAINMENT by Vicky DeVille and Def Jam's own DJ DPrizz.
PHOTOGRAPHY by Benny Lui.
Special THANK YOU for all the teamwork that made this event a success: Arlene, Dara, Michael, Tommy, Elissa, Shem, Rachel, Andrea, Fiona, Danny, Lil, Beatrice, Darrell, Kendall, Andres and Elie - ofcourse the wonderful people at SLP who showed some love - You guys have been rock stars!
FOLLOW US ON SOCIAL MEDIA FOR MORE EVENT HAPPENINGS:
---